Congressman Lamborn Commemorates the 79th National Bible Week
Washington D.C. – This week, Congressman Doug Lamborn (CO-05) led a Special Order on the House floor, celebrating the 79th anniversary of National Bible Week. Congressman Lamborn and several other Members of Congress expressed the profound impact that the Bible has had on their lives and on America.

In 1941, President Franklin Delano Roosevelt declared the week of Thanksgiving to be National Bible Week. Since that year, the week of Thanksgiving has been marked by a series of celebrations recognizing the Bible's spiritual and historical significance. The Bible has served as a foundational building block of Western civilization, our Judeo-Christian heritage, and the ideas and principles that shaped America's founding fathers' thinking. 

Rep. Lamborn gave the following remarks: 

"Many of the early American settlers came to the New World with the express purpose of living out their faith in God and His Word according to the convictions of their consciences. One of Congress' first acts in the infancy of our Nation was the authorization of an American-published Bible. Our Founding Fathers understood how important it was for the American people to have access to Bibles.

"The Bible claims to be more than a mere book. It claims to be the inspired Words of God. As it says in the first book of Peter: 'All flesh is like grass, and all its glory like the flower of grass. The grass withers, and the flower falls off, but the Word of the Lord abides forever.' I am thankful for the Word of God and the impact it has had on my life, on the lives of those who have spoken here today, and on the life of our great Nation."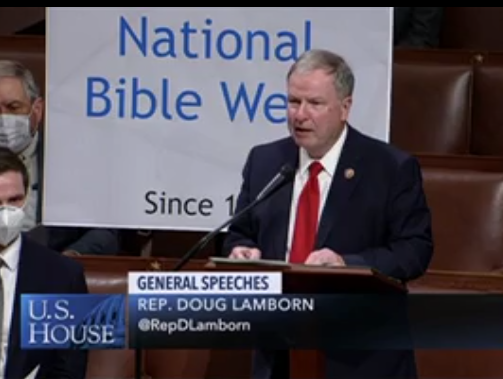 Click here to view Congressman Lamborn's opening statement in the Special Order. 
Click here to view Congressman Lamborn's statement on the importance of the Bible to America's Founding Fathers. 
Click here to view Congressman Lamborn's closing statement in the Special Order. 
Contact: Cassandra Sebastian (719) 520-0055